WINTER HAS ARRIVED
TIPS FOR HEALTHY LIVING DURING WINTER MONTHS
As winter has graced us with her presence, here are ten tips for keeping the colds away and ensuring a healthy lifestyle.
Always wash your hands after blowing your nose. Germs are always on our hands so keep your hands away from your face as much as possible to minimise the spread of these germs.
Keep kitchen counters, bathrooms, sinks, dining room tables, sinks and all surfaces clean at all times using our natural cleaner Super EM to get rid of bacteria.
Get enough sleep every night. Ideally 8 hours but more importantly in a well-ventilated room. Avoid the use of electric blankets when you sleep at night.
Drink plenty of water and herbal teas with ginger and lemon.
Increase your intake of healthy fruit and vegetables. An easy way of getting all the nutrients is through juicing and soups and broths.
Soak and wash your fresh produce (fruit and vegetables) as soon as you get home from the supermarket to get rid of chemicals and pesticides. Poor some of our EM Health Extra Strength into a sink filled with water and soak fresh produce for 20 minutes.
Get rid of used tissues as soon as possible as they carry germs.
Use a humidifier in your rooms to clean the air and ensures your respiratory airways don't dry out.
Breathe. Practise breathing every day, even if its a few minutes when driving to your next meeting.
Exercise every day, even if its a 20 minute walk down the road.
Don't forget to laugh! As they say laughing is the best medicine as the immune system works better when you are happy.
Finally, take a probiotic daily to ensure the body functions to its full potential. We suggest our product, EM Health Booster.
Before you dismiss the healing powers of chicken soup as an old wives' tale, consider this: doctors regularly recommend that patients increase their intake of fluids – like soup – to soothe aching throats by keeping them hydrated. More than this, chicken soup contains a compound called carnosine, which helps boost your immune system.
Try this delicious recipe, which contains ginger – another flubuster – to give it extra kick.
Ingredients
2 tablespoons olive oil
1 small red onion, thinly
sliced
3 cloves garlic, finely
chopped
3 tablespoons ginger grated
fresh ginger
2 litres of low salt chicken
stock
2 medium parsnips, peeled
and chopped
2 medium carrots, peeled
and chopped
2 stalks celery, thinly sliced
1 medium turnip, peeled and
chopped
1/2 teaspoon Kosher salt
1kg roast chicken
1/2 cup frozen peas
4 spring onions, sliced
Directions
1. Heat the oil in a large saucepan over medium heat. Add the onion, garlic, and ginger and
cook, stirring, until fragrant, 1 to 2 minutes.
2. Add the broth. Stir in the parsnips, carrots, celery, turnip, and ½ teaspoons salt. Bring to a boil. Reduce heat and simmer until the vegetables are tender, 15 to 20 minutes.
3. Meanwhile, using a fork or your fingers, shred the chicken meat, discarding the skin and bones.
4. Add the chicken, peas, and spring onion to the saucepan and cook until heated through, 3 to 4
minutes.
EASTER ROAD SAFETY TIPS
We call on all road users to be careful and vigilant on our roads ahead of the Easter weekend. All motorists and pedestrians should be considerate and ensure their own safety and that of their family as well as other road users. We also advise road users to take the following guidelines on road safety into consideration and to ensure that you have adequate motor insurance cover.
Motor Insurance Policy Tips:
Keep your policy number and 24hr road assistance number handy for in case of an emergency
Make certain that your insurance premiums are up to date
Remember to advise your insurance company if you are travelling outside of South Africa
Make certain that the driver/s have valid driver's licences at all times
Safety Tips:
Travel during the day and reach your destination on time
Do not drink and drive
Do not text or talk on your mobile phone while driving
Be on the lookout for pedestrians
Rest after every two hours of driving
Physically check if all the doors are locked when leaving the vehicle unattended
W
ith reference to the current economic situation this quotation referring to Warren Buffet seems quite apt:
"Buffett's ability to sit tight and ride out short-term market gyrations has been one of the keys to his success as a long-term investor"
The table below highlights the best and worst ways to spend money.
| | |
| --- | --- |
| Best | Worst |
| Emergency Fund | Retail credit |
| Invest for retirement | Luxury vehicles |
| Insurance/Assurance | Get-rich-quick schemes |
| Build up discretionary funds | Keeping up with the Joneses |
| Equity and property | Pension fund withdrawals |
Interesting!
Are we missing a few days?

Peter Leslie sent me this information which I found quite, shall I say, bemusing?
Here is an interesting historical fact that you probably didn't know. Just have a look at the calendar for the month of September 1752.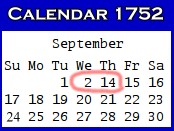 In case you haven't noticed, 11 days are simply missing from the month.
Here's the explanation: This was the month during which England shifted from the Roman Julian calendar to the Gregorian calendar.
A Julian year was 11 days longer than a Gregorian year. So, the King of England ordered 11 days to be wiped off the face of that particular month. (A King could order anything, couldn't he?)
So, the workers worked for 11 days less that month, but got paid for the whole month. That's how the concept of "paid leave" was born. Hail to the King!
In the Roman Julian calendar, April used to be the first month of the year; but the Gregorian calendar observed January as the first month. Even after shifting to the Gregorian calendar, many people refused to give up old traditions and continued celebrating 1 April as New Year's Day. When simple orders didn't work, the King finally issued a royal dictum which stated that those who celebrated 1 April as New Year's Day would be labelled as fools.
From then on, 1 April became April Fool's Day.
I cannot vouch for the accuracy of this information, but sometimes one should not allow facts to mess up a good story.
The SA Revenue Service (Sars) intends collecting nearly R1trn during the 2014 tax season which started on July 1.
More than 50 000 taxpayers filed their tax returns within the first few hours of 2014 tax season and thousands received their tax refunds within 24 hours after submitting via eFiling.
Stiaan Klue, chief executive of the SA Institute of Tax Professionals, said that Sars' modernisation programme gives it the ability to develop a world-class risk engine that can expose any form of non-compliance and fraud.
He provides the following tips for taxpayers:
Deadlines to remember
- The deadline for manual tax submissions is September 26 2014
- The deadline for all non-provisional taxpayers is November 21 2014
- Provisional taxpayers submitting returns via eFiling is January 30 2015
Collect and safeguard all supporting documentation
Income items, such as salary and interest, as well as qualifying expenditure, such medical certificates, retirement annuities and pension fund contributions, should be accurately filed on the return. In addition taxpayers are required by law to safeguard and retain supporting documentation for 5 years.
Be diligent and submit your tax return early
Don't wait for the last minute. If you have a problem submitting your return, whether manually or electronically, you don't want to stand in the line at a Sars office and be part of the last minute rush.
Use only a registered tax practitioner
Taxpayers must take responsibility and ensure their tax practitioners are accredited and registered to submit their tax return.
Only an accredited tax practitioner will be able to complete and submit tax returns on behalf of taxpayers, update and maintain taxpayer registration details and register taxpayers for new taxes.
Do not offer or agree to a contingency fee
Taxpayers are prohibited to pay a contingency fee to a tax practitioner, calculated as a percentage of the refund paid by Sars. This practice is not approved and may expose you to either under-declaration of income or inflated deductions.
Read all Sars's correspondence
A new feature this tax season is an "inbox" on the eFiling page that enables taxpayers to access all correspondence from Sars. However, be warned that this "inbox" is also a legal mechanism for Sars to officially communicate requests for additional information.
Where there is a will

A farmer died leaving his 17 horses to his three sons. When they opened the will, it read:
My eldest son should get 1/2 (half) of the total horses;
My middle son should get 1/3rd (one-third) of the total horses;
My youngest son should get 1/9th (one-ninth) of the total horses.
As it's impossible to divide 17 into half or 17 by 3 or 17 by 9, the three sons started to fight with each other.
Then they decided to go to a farmer friend who they considered to be quite smart, to see if he could work it out for them. The farmer friend read the will patiently, and, after giving it due thought, he brought one of his own horses over and added it to the 17. That increased the total to 18 horses.
Now, he divided the horses according to their fathers will.
Half of 18 = 9. So he gave the eldest son 9 horses.
1/3rd of 18 = 6. So he gave the middle son 6 horses.
1/9th of 18 = 2. So he gave the youngest son 2 horses.
Now add up how many horses they have:
Eldest son…9
Middle son…6
Youngest…2
That totals to 17.
Now this leaves one horse over, so the farmer friend takes his horse back to his farm.
Problem Solved!
Moral:
The attitude of negotiation and problem solving is to find the 18th horse i.e. the common ground.
Once a person is able to find the 18th horse the issue is resolved. It is difficult at times, however, to reach a solution – the first step is to believe that there is a solution.
If we think that there is no solution, we won't be able to reach any!
That's clever Mathematics.


 Extract from the Prescient Post WEEKLY COMMENTARY – Friday the 23rd May 2014:
             Global stocks continued to rise, as minutes from the latest Fed meeting revealed that policy makers expect inflation to remain below their target whilst Chinese manufacturing data beat estimates. Emerging and frontier markets have had a stellar start to the year as investor's place more emphasis on good rather than bad news. An example is the first quarter earnings of the S&P500, which has consistently surprised to the upside by 2-3 percent. The major gauge of fear, the VIX has retraced back from its January high of 21.43% and is now at 11.91%. Considering that volatility is mean reverting, this low point suggests that there is greater probability of volatility rising rather than falling.
             India's recent elections were a tremendous positive for the country and its economy as the win for Prime Minister Narendra Modi introduces a new regime in the country. The newly elected Prime Minister is expected to stimulate trade, investment and infrastructure development. Modi is expected to be significantly pro-business and expectations for meaningful change are high.
             Back in South Africa, the mining strikes continue into their 18th week crippling output from mines. More than 70,000 workers have halted work since 23 January this year. Workers have forfeited R8.4 billion in wages, whilst the mining companies affected have lost R18.9 billion in revenue. On the data front, a quiet week thus far with only CPI numbers coming out a touch higher than expected. The SARB left interest rates unchanged at 5.5.
Things you may regret when you're old!
Failing to make physical fitness a priority. In fact, it's never too late to start – but the sooner the better.
Letting yourself be defined by gender roles. "Few things are as sad as an old person saying, 'Well, it just wasn't done back then.'"
Caring too much about what other people think.  "In 20 years you won't give a damn about any of those people you once worried so much about." Exactly – and you won't worry what anyone thinks now, either.
Not moving on fast enough.  "Old people look back at the long periods spent picking themselves off the ground as nothing but wasted time."
Holding grudges, especially with those you love. Who's got time?
Not standing up for yourself. We say: Get the respect you deserve – not because you're "wiser," but because you are aging with attitude.
Letting yourself be defined by cultural expectations. Like the expectation that we'll fade into the background as we get older.
Not spending enough time with loved ones. Their time is finite.
Not being grateful sooner. Don't be a grouch!
Not taking that risk, especially in love. Say yes to leaps of faith!
Letting yourself live with regret. Because it's never too late to change your future.
The British Penny
EU Directive No. 456179
In order to meet the conditions for joining the Single European Currency, all
citizens of the United Kingdom of Great Britain and Northern Ireland must be
made aware that the phrase 'Spending a Penny' is not to be used after 31st
December 2013.
From this date, the correct terminology will be: 'Euronating'.
Are you an EMPTY NESTER?  Here are a few things to consider at this stage of your life……………………………
The kids have left home and you could finally have some disposable income again. If that's the case, you should look at putting some of it away.
Now is the time to start thinking about what sort of income you will get from your retirement savings.
By having the right short term insurance in place, you can help prevent having to dig into your savings to cover any unexpected expenses.
You can never be too safe when it comes to looking after yourself and your loved ones, now could be a good time to relook your life insurance.
No one can really predict what tomorrow might bring, but by taking control of your health and wellness, right now, you can rest easy.
A Lesson in Irony…
The Food Stamp Program, administered by the U.S. Department of Agriculture, is proud to be distributing this year the greatest amount of free Meals and Food Stamps ever, to 46 million people. Meanwhile, the National Park Service, administered by the U.S. Department of the Interior, asks us "Please Do Not Feed the Animals." Their stated reason for the policy is because "The animals will grow dependent on handouts and will not learn to take care of themselves." Thus ends today's lesson in irony.
(Thanks David Melwill for sharing this).
Ancient Wisdom Adjusted to Modern Demands
The tribal wisdom of the Plains Indians, passed on from generation to generation, says: "When you discover that you are riding a dead horse, the best strategy is to dismount."
However, in government, and elsewhere, more advanced strategies are often employed – these include, but are not restricted to, the following:
1. Buying a stronger whip.
2. Changing riders.
3. Appointing a committee to study the horse.
4. Arranging to visit other countries to see how other cultures ride dead horses.
5. Lowering the standards so that dead horses can be included.
6. Reclassifying the dead horse as living-impaired.
7. Hiring outside contractors to ride the dead horse.
8. Harnessing several dead horses together to increase speed.
9. Providing additional funding and/or training to increase the dead horse's performance.
10. Doing a productivity study to see if lighter riders would improve the dead horse's performance.
11. Declaring that as the dead horse does not have to be fed, it is less costly, carries lower overhead and therefore contributes substantially more to the bottom line of the economy than do some other horses.
12. Rewriting the expected performance requirements for all horses and, of course…
13. Promoting the dead horse to a supervisory position.
Fees for service
Those who are still uncertain as to whether charging fees is more risky than being paid commission should consider the following example from the second oldest profession in the world:
A new client sees a famous lawyer. "How much do you charge?"
The lawyer replies: "I charge $200 to answer three questions!"
"Well that's a bit steep, isn't it?"
"Yes it is", said the lawyer.
"What's your third question?"
---